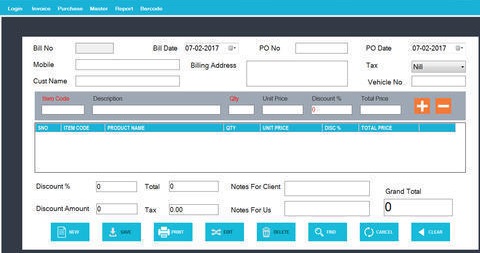 BILLINGSOFTWARE
Billing software, commonly known as invoicing software, can be any software designed to simply generate invoices for products and services rendered to customers. Billing software also comes with the ability to track the payment receipts from customers against the invoices issued.
Fully flexible to configure the information on the invoice, add a logo to the invoice, choose billing formats that suit your business nature and much more, makes TallyPrime a tailor-made accounting software for your business. What's more? TallyPrime comes with a host of formats for record-keeping, flexibility to toggle between single entry and double entry systems, auto-posting and processing, and much more.
Description
The saying, 'One size doesn't fit all', applies the best when it comes to businesses. Based on the type of business you run, you need a flexible billing solution that would cater to your needs. TallyPrime lets you use the module based on your requirements and usability. If you are in a business that involves inventories, you can use "Item Invoice".
Using TallyPrime, you can multi-task and handle day-to-day interruptions. Let's say, you are in the middle of the sales invoice but want to record another new sale or any other voucher? You are in the middle of making sales invoice but got a call from a customer inquiring about the stock position or pending order? There is an immediate need to print another report being in the middle voucher entry.
Business transactions are mostly not confined to dealing with only local parties. Many organizations have transactions in more than one currency for which foreign currency accounting is required.
With a host of invoice configurations and options in TallyPrime, you can personalize the invoice according to your preference. You can configure your invoice with additional options such as inclusive of tax, discount column, actual and billed qty. etc.